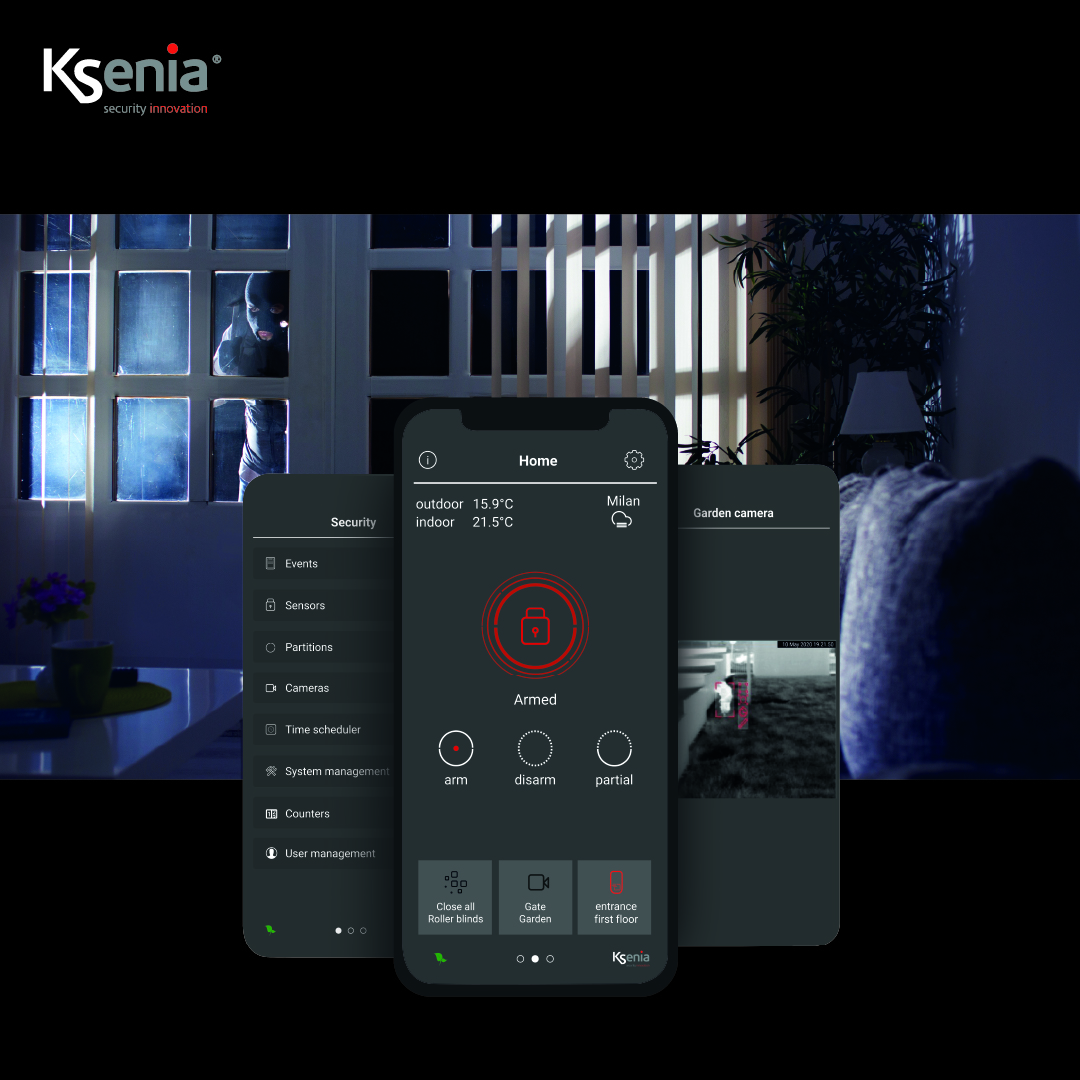 Your home is an intimate space, a familiar environment that you have the pleasure to reserve only to a few trusted people. The idea that a stranger could violate it, invading your privacy, and taking away your personal objects is shocking. Being a victim of theft is hard to overcome and accept. It makes you suspicious, angry, and deprived of that sense of Security that your house transmitted so much.
Unfortunately, home burglaries are still widespread around the world, and the best way to prevent them is to protect your home with a smart, reliable, and professional intrusion system. An efficient security system can instantly detect intrusions by alerting you in real time and, in case of theft, it can even be very useful to catch attackers in time.
To cite an example, the newspapers of the Marche region have recently reported an episode of attempted theft in the middle of the night in a villa on the Marche coast. The owner, far from his house, was able to contact the Police promptly thanks to the alarm notification that the system had sent him on his phone. In this way, the officers were able to intervene, arrest the intruders and recover the stolen objects.
How to select an efficient alarm system
Finding the anti-intrusion system that best meets your needs is not easy: it is necessary to evaluate many fundamental aspects such as the professionality, the efficiency of the system and the reliability of the manufacturing company. We suggest opting for an alarm system that ensures the 24-hour monitoring of your home, as well as the ability to manage it remotely with a dedicated App, directly from your mobile device.
The security of your home and, therefore, of your family has an inestimable value: it is precisely for this reason that you must be wary of cheap or "do it yourself" solutions on the market, since a wrong configuration of the control panel can make your system completely useless in case of theft, thus wasting money and time.
You absolutely need the intervention of a professional installer, who has all the technical skills to carry out a proper installation. Only in this way can a system be adequate to protect your home and your family.
Why Ksenia Security is the best choice to protect your Home
Ksenia Security is the best option if you are looking for an efficient, highly professional system that can protect your home without compromising comfort and elegance. Driven by the desire to innovate, we offer a wide range of cutting-edge solutions to realize a complete and highly reliable Security system: from perimeter sensors to outdoor "talking" sirens, protected against any tampering attempt. Not to mention our 24-hour active video-surveillance cameras, able to send, in case of alarm, high resolution screenshots of the area in real time, directly on the user's smartphone.
Ksenia Security has all the necessary features to protect your home, more specifically:
Efficiency & Innovation: The heart of Ksenia system is our lares 4.0 control panel, a flexible and scalable platform, thanks to which it is possible to realize a complete Security & Home Automation system. It is a constantly evolving platform that is open to a wide variety of integrations with industry leaders such as KNX, Bosch, Milestone, Optex and many more.
Quality:

Our solutions are entirely manufactured and developed in

Italy

, paying particular attention to the

quality

of materials and

environmental sustainability

. Moreover, our wide range of devices, both wired and wireless, are

certified

according to important

international standards

, to attest their reliability and durability over time.

Remote control:

It is possible to monitor and

manage

the entire Ksenia system even

remotely

thanks to the

lares 4.0 App

, directly from your smartphone. In this way, users have the possibility to control their Home at any time of the day and, in case of intrusion, receive a real-time notification with screenshots of the alarm area, in order to take immediate action, avoiding unpleasant situations.

Professionality:

A truly reliable security system cannot be installed by anyone. For this reason, the

installation

and programming of our systems

is reserved for professional installers

, who can acquire all the skills to do an excellent job thanks to our Technical Training program.
Ksenia Security is all you need for a safe Home!