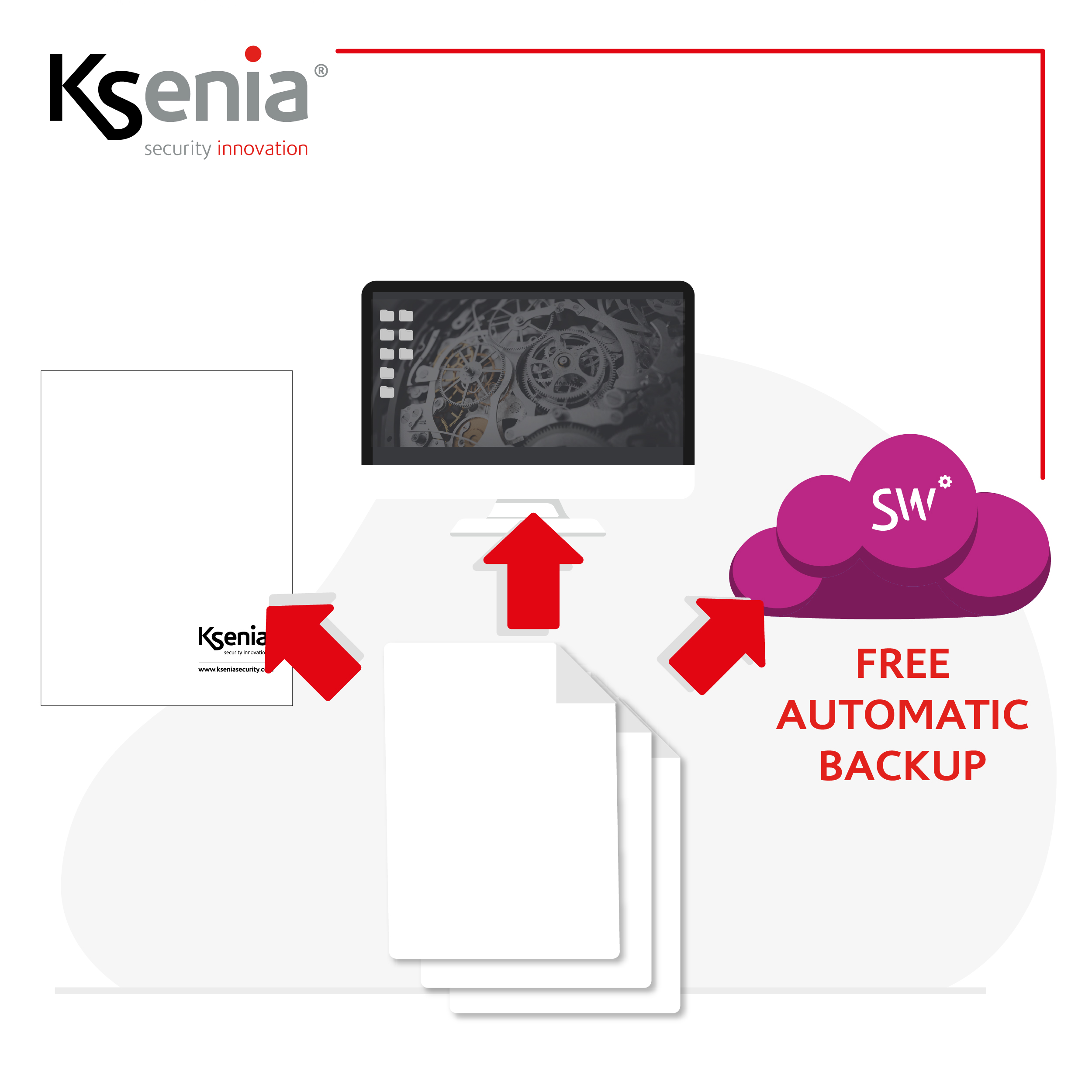 In our digital era, electronic devices such as computers, smartphones and tablets store a huge amount of information every day.
In this context, the importance of saving your data becomes evident, especially when it comes to security systems where prevention plays a fundamental role.
In fact, the backup allows the installers of security systems to protect their schedules in the event of hardware failures, malfunctions of the control panels, human faults such as accidental deletion of important files, or unforeseen situations that could compromise the use of the configurations themselves.
Without a proper backup, the loss of such files becomes irreversible and you are forced to repeat all the work from the beginning, with a significant loss of time and, consequently, money.
To ensure greater security and protection of your programming, you should save them in at least three separate locations.
Specifically, it is important to ensure that you always have a primary copy of the files, which is the active and main version that is accessed regularly, for example through network services.
In addition, we recommend you to create an additional independent copy by saving it to an external storage drive such as an external hard drive, making sure you keep your data up to date on these devices and keeping them safe from physical damage or unauthorized access.
Finally, it is extremely important to save the third copy on cloud services that allow you to upload your files to remote servers via Internet, offering a secure backup, accessible at all times and from any connected device.
Following these helpful tips, you'll have three copies of your configurations available, and if you miss one, you'll still have a chance to recover them in time.
The complete and reliable backup of Ksenia Security
Ksenia Security offers the possibility to save your configurations in all three modes mentioned above.
The first copy is physically stored in the internal memory of the lares 4.0 control panel and represents the active version that guarantees quick access to data and operational continuity.
In the case of repetitive programming, you can directly use this copy and upload it to another control panel, ensuring a faster and more efficient process.
In addition, installers can download the second version of their programs locally, on their PC, and recharge it with a simple click if necessary through our SecureWeb cloud platform.
Finally, we offer the possibility of cloud saving through the free Automatic Backup service, activated directly from the SecureWeb platform.
The Automatic backup makes copies of the system configuration data in a completely automatic way, allowing you to perform the recovery in case of need, both on the same control panel, both on different ones.
A maximum of 3 savings can be made for each system and, when this threshold is exceeded, the overwriting of copies starts from the oldest.
You can preserve from overwriting a maximum of 2 copies that can be saved by adding a description to identify them; the third copy will always be overwritten.
The backup file, which contains all the configuration data and graphics images, is saved locally and then uploaded to Ksenia SecureWeb, to be available to the Installer.
To start using this free service, you need to register the control panel to Ksenia SecureWeb; at the time of logout from your control panel, a 5-minute timer starts and, when it expires, the backup file is created.
To sum up, saving your files is an essential element to ensure maximum security and protection in case of hardware failure, system anomalies, human errors or unexpected events.
Thanks to Ksenia Security, you will have the opportunity to make a complete and secure backup free of charge, giving you greater peace of mind and ensuring the preservation of your configurations in the long term.