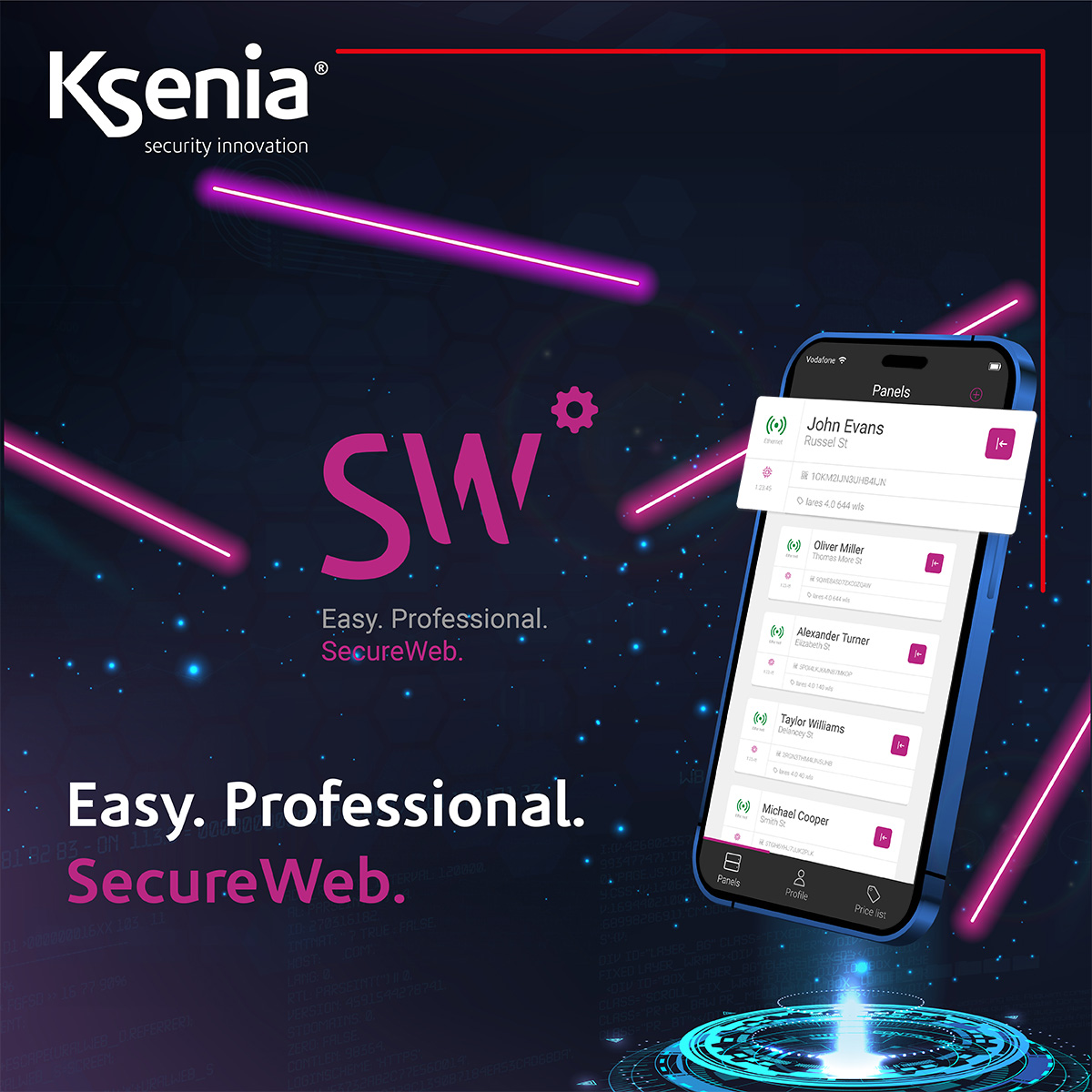 Efficient management of the security systems of your customers is crucial to ensure their protection and peace of mind. Installers must be able to quickly program, manage, and monitor the control panels, with the ability to take immediate action in case of anomalies.
It is precisely from this need that Ksenia SecureWeb was developed: it is the cloud platform of Ksenia Security that offers an innovative way to configure Security & Home Automation systems. The acquisition of the control panel takes only a few minutes by connecting directly to its web server via PC/MAC, without the need for additional software and from any browser. In a few minutes you can create your own profile, configure the system, and manage it from anywhere and at any time, using any portable device.
To further simplify the installer's work, Ksenia Security has developed the Ksenia Pro App: simple and intuitive, it is available for free on Android and iOS stores, allowing to program and manage the systems remotely, directly from your smartphone. In addition to control and management capabilities, the Ksenia Pro App provides instant access to a wide range of useful information: installers can access price lists, catalogs, technical documentation, and product certifications directly from the application. This allows them to have all the information they need to know our solutions better, as well as provide advice to their customers. Let's deepen the main advantages of Ksenia SecureWeb and Ksenia Pro App.
The advantages of Ksenia SecureWeb and Ksenia Pro App
One of the main advantages of SecureWeb and Ksenia Pro is the flexibility that offer to Ksenia installers: no matter where they are, they can remotely access the lares 4.0 control panels to monitor their status and perform timely and efficient interventions. In fact, remote management allows them to promptly respond to critical events by accessing the control panel in real-time. This ability to provide immediate response can make a difference in emergency situations and ensures high levels of reliability and professionalism in the eyes of the customers.
Furthermore, remote management allows installers to avoid constant physical travels, optimizing operational times and costs, as well as significantly reducing their environmental impact. By reducing the time required for interventions, installers can streamline the planning of their activities, optimize their schedule, and support a larger number of clients within the same period.
Another important advantage is the ability to save their configurations for future use.  In this way, the installation process is simplified and installers can easily replicate customized configurations for subsequent clients. The SecureWeb cloud platform and the Ksenia Pro App are essential tools for installers due to the numerous advantages they offer. They simplify their work, reduce time and costs, and provide the opportunity to offer their clients a superior service in terms of quality and reliability.