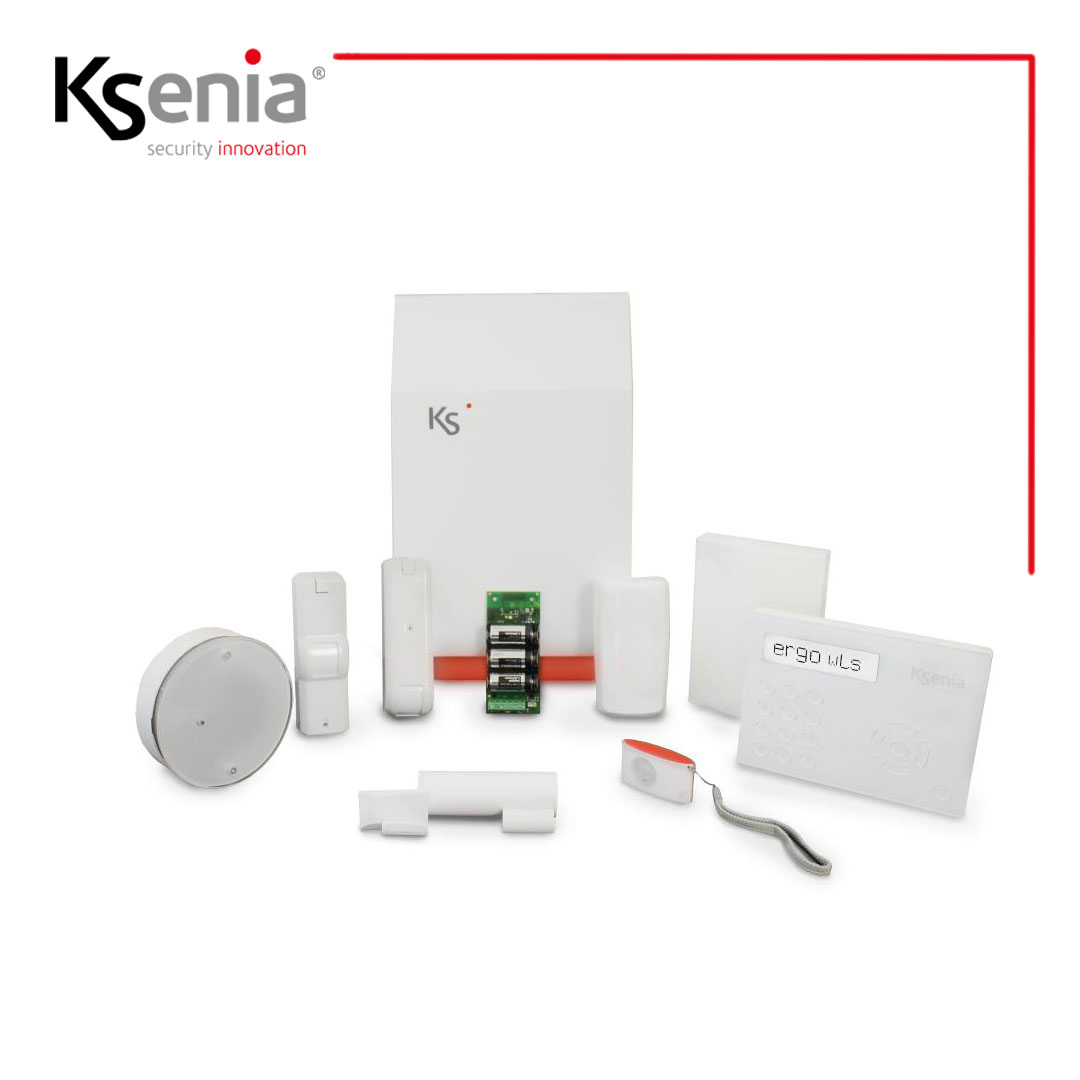 These days the theme of home Security it is inevitably linked with that of technology. The numbers indicate a decline in thefts in recent years and this is due, in large part, to the introduction of increasingly reliable home security systems that allow features that until recently seemed like pure science fiction. Let's think, for example, of being able to guard the house from afar, through video surveillance cameras connected directly to your smartphone, or to increasingly sophisticated sensors that cooperate with all the other systems in the house thanks to home automation systems. Let's see below what are the home security systems fundamental for protect the house from theft.
How to make your home safe
Home surveillance cameras
To date, a video surveillance system that allows monitor your home from your smartphone it is within everyone's reach, both for ease of use and for purchase cost. When choosing home security cameras, you need to move towards products that integrate the IP technology, which in fact behave like a computer, reachable from the network.
This is the so-called IoT, the Internet of Things. IP cameras are by nature very delicate, therefore it is always advisable to choose products of important brands that guarantee reliability over time, with updates, technical support, software. In particular, it is good to make sure that the App for video surveillance is always up-to-date and easy to use like Ksenia lares 4.0.
Discover the whole line of Video Surveillance systems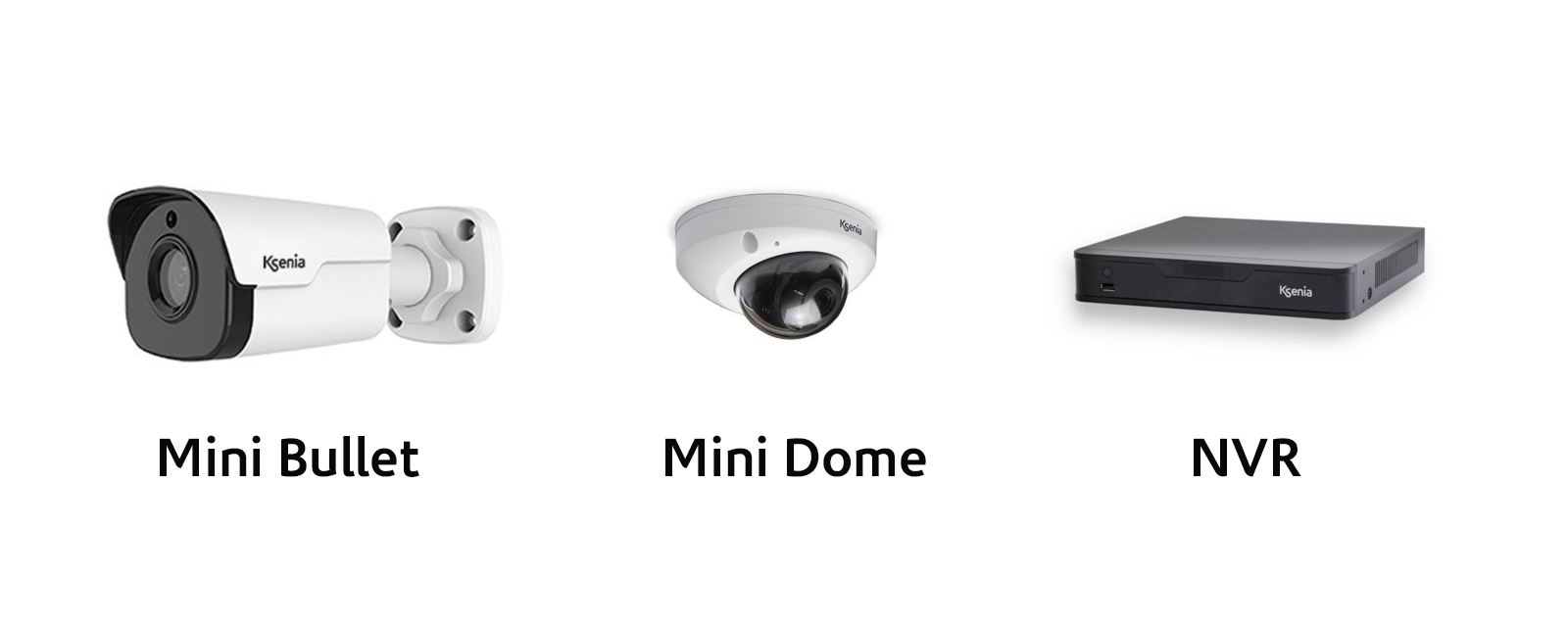 Motion detector
How to make your home safer in case of break-ins, but without running into false alarms, particularly if we have pets? The solution is to install digital volumetric detectors in infrared technology (PIR), which guarantee the highest degree of reliability in detecting movement, limiting the possibility of alarming to a minimum.
Ksenia unum wls wireless is a volumetric digital PIR detector with dual optics, available in the version with and without pet immunity. It has a unique, sober and minimalist aesthetic, unlike any other that it integrates perfectly into different architectures interior, becoming active subjects of interior design.
Thanks to the new ELT (Embedded Lens Technology), the lens is completely integrated into the front of the detector which, therefore, is entirely made with the special material of which the lens is made (HDPE), without external LEDs. In addition, all the different detector models have the same design and the same dimensions, thus allowing one aesthetic continuity in the various environments regardless of the type of detector installed.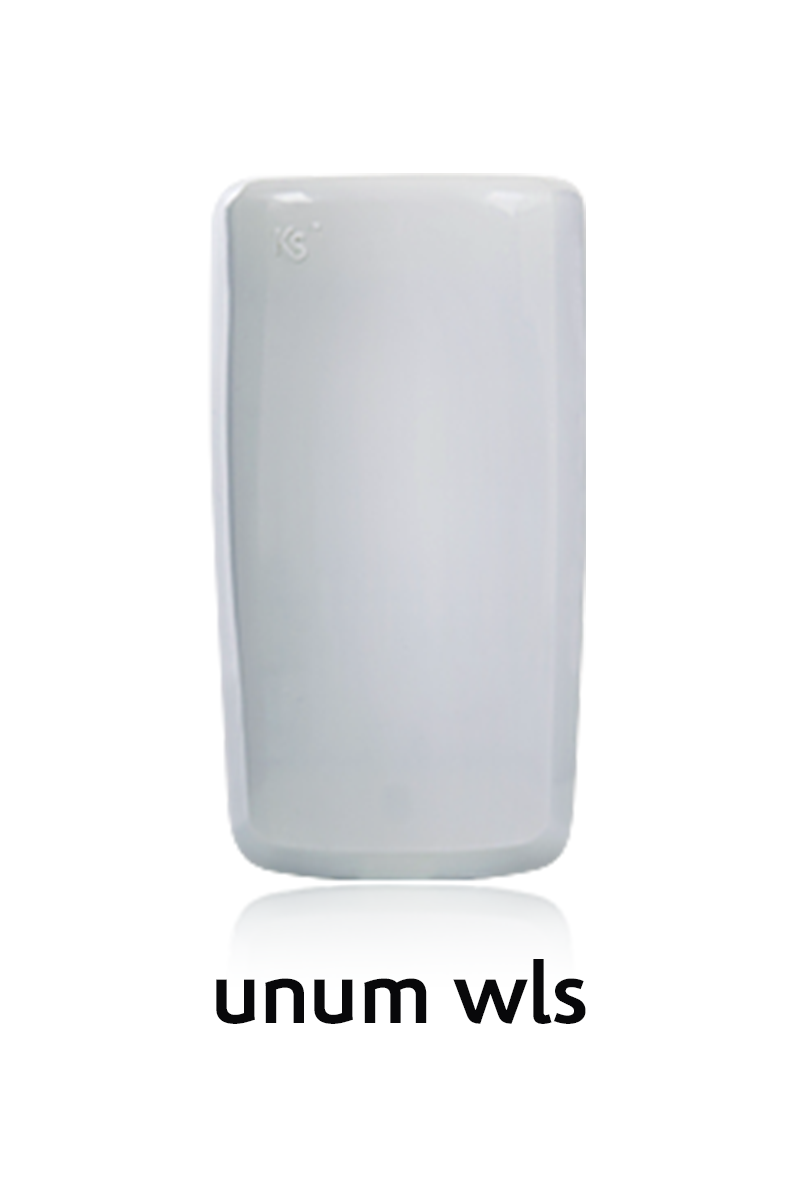 Curtain motion sensor
A curtain motion detector detects the presence of intruders in a small and limited area: typically we speak of curtain sensors for doors and windows, since the "curtain" detection area consists of a vertical barrier that must be crossed to trigger the alarm.
Il velum-C sensor WLS Double AM ​​Technology has a vertical range of 6m and guarantees complete coverage of the same, creating an unbeatable barrier to any intruder.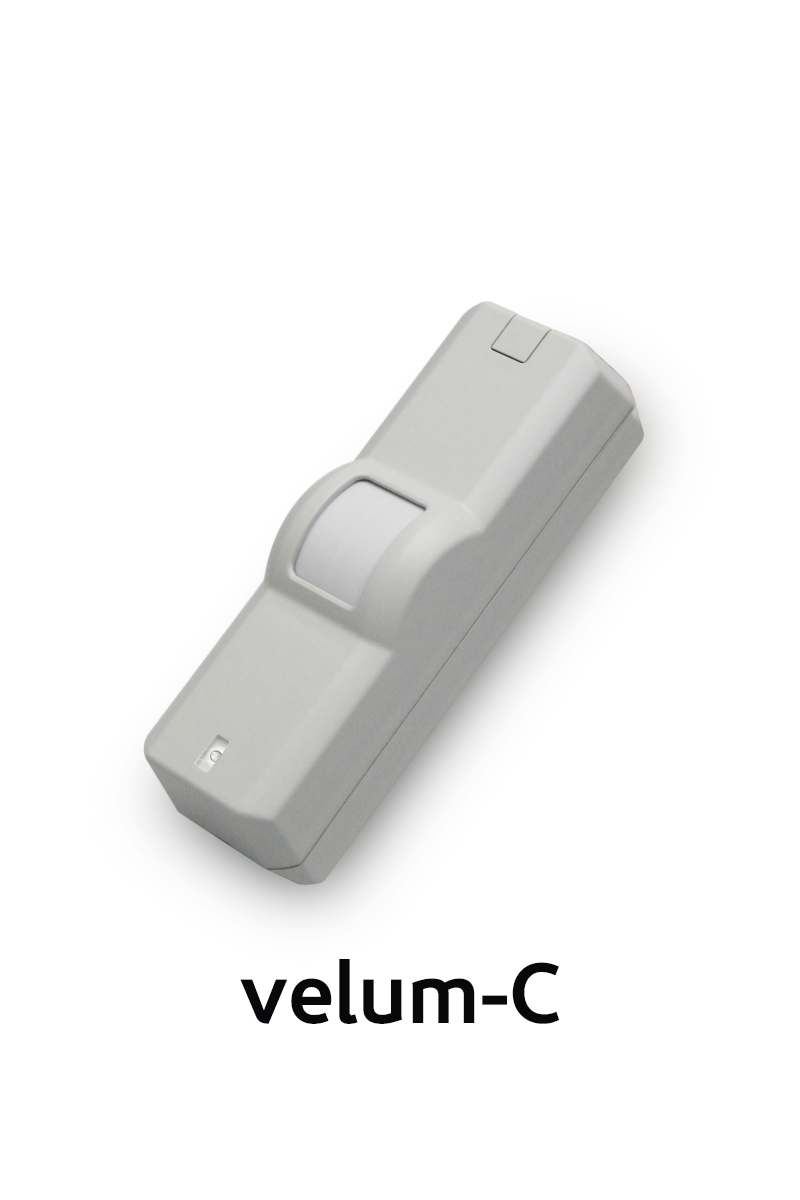 Magnetic Contact
Among the most effective and important components of a home burglar alarm system, i magnetic contacts for anti-theft devices offer a versatile and very economical solution for controlling the perimeter of your home. Magnetic sensors are used for alarm doors and windows and are applied inside the two wings of the frame.
The ferromagnetic material of which the internal contact blades are made generates a magnetic field which, when the door is opened, is interrupted and causes a short circuit.
nanus poli is a wireless magnetic contact, an integral part of the Ksenia's 868 MHz two-way wireless system, characterized by an exclusive design (available in white, brown and gray) and by the dimensions that make it the most compact available on the market.
Ksenia Security also offers i Magnetic anti-masking contacts which differ from the standards on the market, thanks to Magnasphere® Technology: an innovative magnetic principle capable of detecting vibrations, offering high safety performance and greatly increasing its reliability.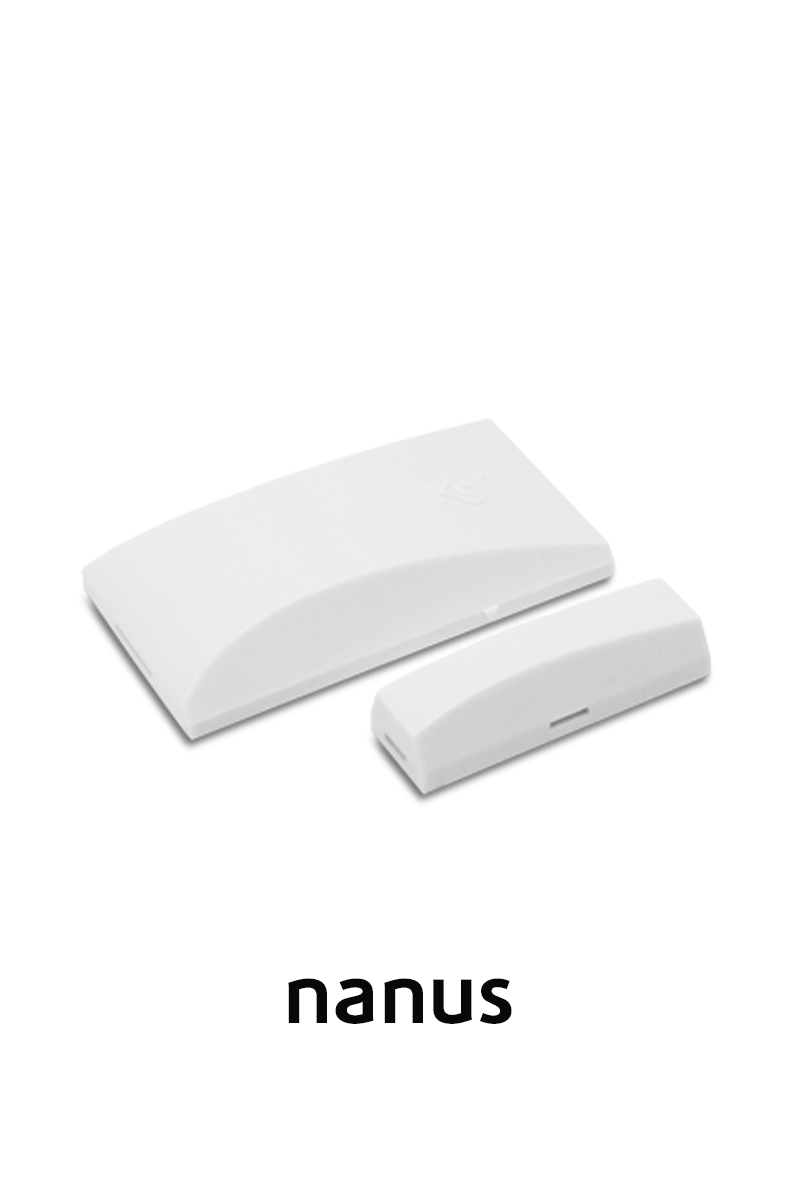 Outdoor siren
In general it is a good idea to install at least a siren outside. The siren installed outdoors serves both as deterrent product to inform any malicious person that the home is protected by an alarm system, both in the event that the alarm is triggered for attract attention neighbors, passers-by or law enforcement and thus put the thief to flight.
La imago outdoor siren, in its BUS version, it is an acoustic and luminous alarm that connects to the lares control unit via the 4-wire serial BUS KS-BUS and is easily programmed from the control unit.
A professional level siren, with a unique and minimalist design, extremely compact and thin (only 6 cm at the thickest point), based on cutting-edge technology to obtain excellent performance with maximum energy savings: high sound pressure , low consumption, 1 W LED flashing light and high efficiency auxiliary signaling LED.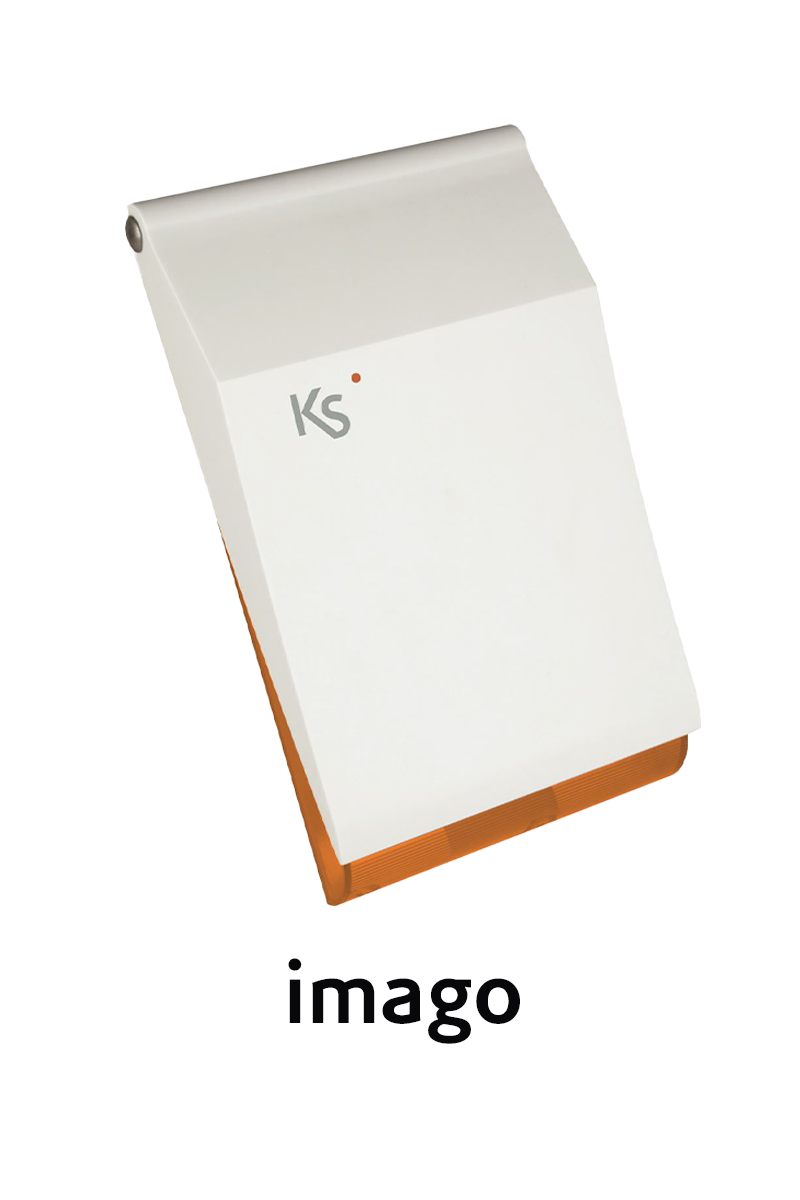 Ksenia wireless technology
The wireless technology adopted by Ksenia is of latest generation, completely bi-directional (i.e. each peripheral acts as a transceiver allowing each transmission to receive a confirmation message, allowing aconsumption optimization and ensuring greater reliability than classic mono-directional systems) and uses the 868 MHz frequency band (FSK technology).
Thanks to the bidirectional communication, the configuration of the inputs (type, number of pulses, balance) is programmable directly from the software. All Ksenia Security wireless devices have a unique serial number which is automatically acquired by the system during installation.
The programming software shows the signal level of each device and the communication path in real time, if there are more receivers on the BUS or any repeaters.
The proprietary transmission power control (DPMS – Dynamic Power Management System) reduces interference, maximize battery life ed optimize the transmission power, depending on the distance between the various devices and the type of installation.
The maximum protection of the whole system is guaranteed thanks to the encryption by proprietary algorithm of each communication package.