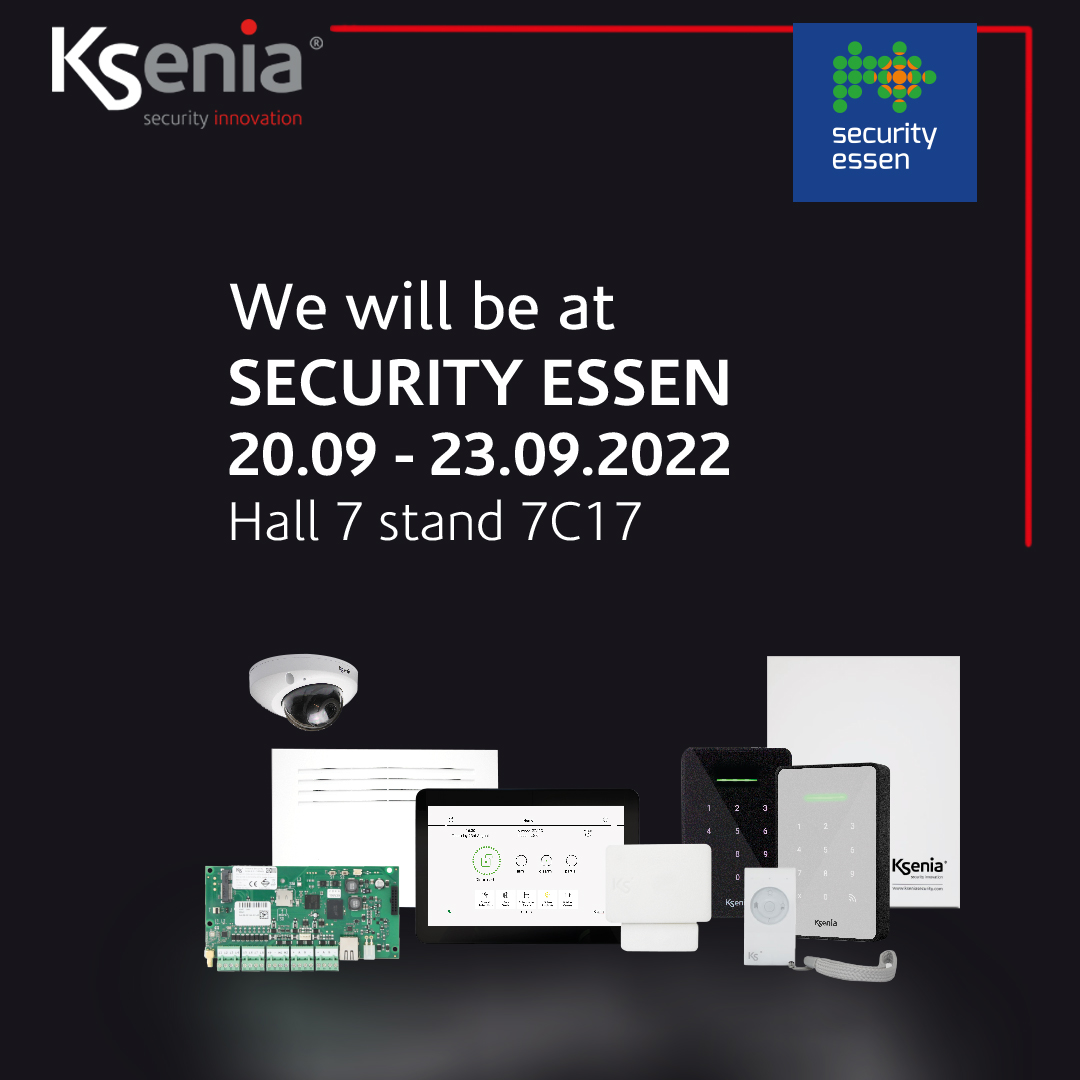 Ksenia will take part from September 20th to 23rd in the world's most important trade fair for security "Security Essen" exhibition, at the stand n° 7C17, pavilion 7! 
You will find the last released high-tech products from Ksenia Security: the touchscreen keypad 'ergo-T pro', the BUS keypad 'ergo-X', the wireless sensor 'micro poli', and the outdoor siren 'vox'.
The evolutionary touchscreen keypad 'ergo-T pro' is the most developed interface in terms of full monitoring of the Security and Home Automation system. Extremely innovative, its 10.1'' display guarantees high fluidity, brightness, and sharpness to offer a better customer's experience. Modern and elegant, it can be easily mounted using the on-board bracket or it can be recessed into the wall, perfectly integrating with the interior decors.
The bran-new BUS keypad, 'ergo-X', is the best combination of Italian design and comfort: suitable for any type of architecture, it can be installed both indoor and outdoor, thanks to the high level of protection against atmospheric agents. It has hidden membrane keys becoming visible only when approached; by applying a light pressure on the keys, it is possible to activate up to 10 scenarios involving Security, Home Automation, and access control tasks through Ksenia mini-tags.
The 'micro poli' is much more than a simple magnetic contact: it has anti-masking, to detect the opening of doors and windows; inertial sensor, to detect vibrations and breaking of glass/windows; it is also able to perfectly identify the inclination of the frame it protects, giving the opportunity of managing any type of windows.
'vox': the outdoor siren, with a luminous and powerful alarm sounder, can play mono or dual-tone sounds as well as voice messages, configured during the setup from the Ksenia Pro App or Ksenia SecureWeb. Additionally, it presents two high-brightness RGB LEDs and a third lightning LED, which can be associated with different functions according to the needs. It is available in two versions, 'vox-C' and 'vox-M'.
Save the event on your calendar, Ksenia is looking forward to meeting you!